Airtrip Online Travel Business
Business Travel Management (BTM), December 2019 Web Business Trip Booking System to be launched in 22 Companies
AirTrip Corp. (Head Office: Minato Ward, Tokyo, President & Representative Director / CFO: Yusuke Shibata, Stock Code: 6191, hereinafter referred to as "AirTrip"), a company with a corporate philosophy of "One Asia", conducting businesses in AirTrip Online Travel Business, Japan inbound tourism, IT offshore development, Life Innovation and investment throughout many Asian markets, readily announces a newly launched web-based booking system for business travellers in their Business Travel Management (BTM) branch in the month of December 2019. 
 
■New Openings in Business Travel Management (BTM) in December 2019: Total 22 Companies
 
AirTrip BTM Total 22Companies:
 
※We have also added new open number of our company group AirTrip International Corp. and Tokyo Masters Co., Ltd. .
 
■What is Business Travel Management (BTM)?
 Our online booking service "Business Travel Management (BTM)" on offer for corporate clients covers the booking of flight tickets, Shinkansen (bullet trains), accommodation, and package tours, developed to meet the needs of our clients in domestic and international business trips. There are a number of benefits for clients who make continuous use of our services, such as direct and indirect savings, which also enable AirTrip to employ a stock business model where profits accumulate with the continuing patronage from our clients.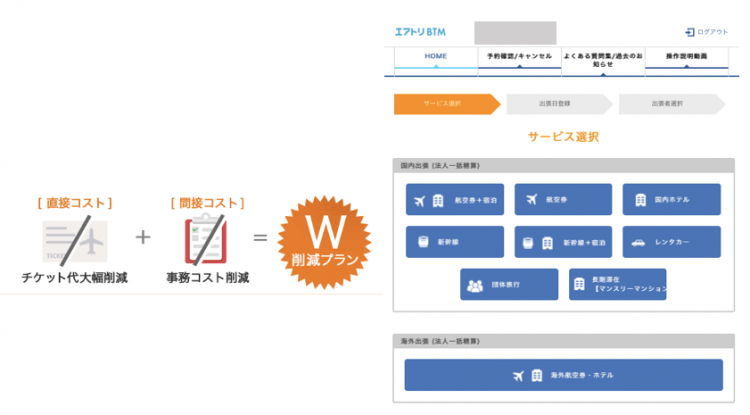 Introduction Cost: Free                      Running Cost: Free!
[Direct Cost]                                              [Indirect Cost]
Drastically reduces cost of tickets          Reduces processing cost      Cost Efficiency Doubles!
 

Various tickets can be purchased at discounted prices, reducing the upfront costs of a business trip.
These benefits are available by either 1) introduction of AirTrip BTM as above, or 2) introduction of OEM site.

Further indirect savings involve time-saving in pre-payment and reimbursement of expenses, thus reducing costs, as the invoices will be billed directly by introducing AirTrip BTM and using the client-exclusive Web-based business trip booking system in a cloud environment.
 
More information on "AirTrip BTM " is available by clicking the URL below:
https://www.evolableasia.com/service/btm/
 
■Prospects of Market Expansion in Business Travel Management (BTM)
Business Travel Management (BTM) market in Japan is valued at 6.4 trillion JPY, of which domestic transportation and accommodation are said to account for approximately 1.8 trillion JPY.
Although research shows that 10 to 20 % of business trip expenses can be cut by introducing Business Travel Management (BTM), further expansion can be expected in the future since a majority of companies currently do not manage their flight expenses incurred during business travels. *1
  AirTrip mission is to further develop and expand online travel booking business by promoting our Business Travel Management (BTM), as well as striving for excellence in service for our clients.
 

 [About AirTrip Corporation]
Head Office: Atago Green Hills Mori Tower 19th Floor, 2-5-1 Atago, Minato Ward, Tokyo
Company Name: AirTrip Corporation
Company Representative: CEO: Hideki Yoshimura
Capital: 2,923 million yen (Equity Capital 7,401million yen)
Website:

http://www.evolableasia.com/


 
 [Our Services]
General Traveling Service Platform AirTrip          :

https://www.airtrip.jp/


Business Travel Management (BTM)       :

https://www.evolableasia.com/service/btm/


IT Offshore Development                                 :

http://offshore.evolableasia.com/


[Evolable Asia Investors Relations Website]:

http://www.evolableasia.com/ir/


 
*1  According to our research in June 2016